Sorry!
This giveaway has ended.

Enter your email below to find out about our next giveaway.
---
While you're waiting...
see why our EcoQube C Aquaponic Aquarium is a family favorite!
 
Over 22,000 aquariums shipped to happy customers worldwide
The EcoQube C is the world's lowest maintenance, aquaponic aquarium designed to bring beauty into any living space.

---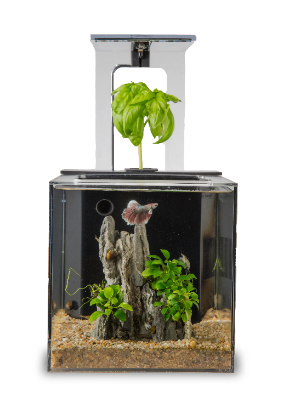 The heart of the EcoQube C is the aquaponics filter, which we've integrated into the tank to create an all-in-one system that uses plants like Basil or Mint to keep your aquarium clean.
The new beautifully integrated design is durable, portable, and compact. We've made it more affordable while maintaining the high quality product build. It's now even easier to maintain with less parts and automatic functionality, AND it's designed in San Diego.
Because the EcoQube C uses aquaponic aquarium technology, no filter changes are needed, ever.
Plants filter the fish waste for you. The larger your plant grows, the cleaner your tank becomes.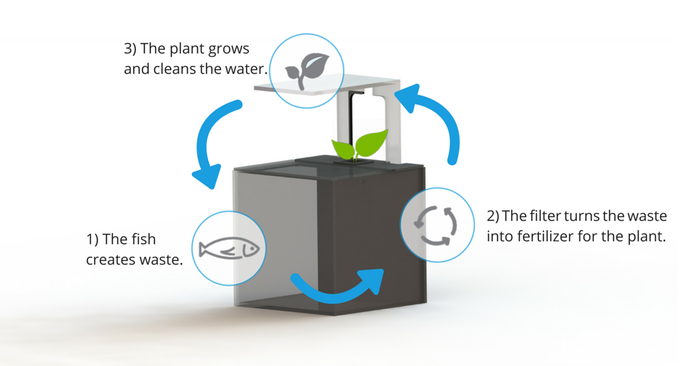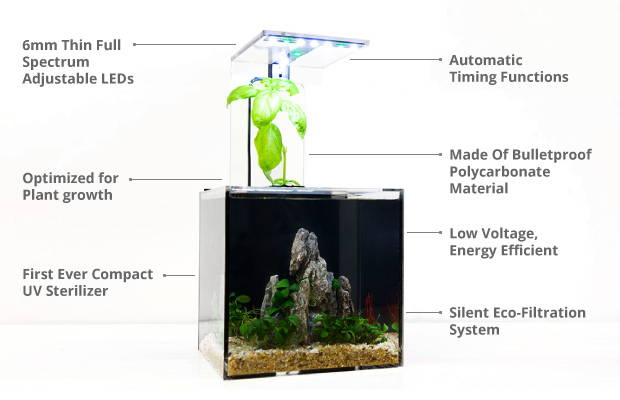 The EcoQube C is made of bulletproof polycarbonate acrylic making it stronger and more durable than glass aquariums, helping it ship to your doorstep safe and sound.
The automatic full spectrum LED system provides your plant with the perfect amount of light, all of the time. To adjust colors, simply tap a button on the remote to obtain your color scheme of choice.
With a UV LED Sterilizer, your tank will be kept cleaner than traditional aquariums as micro-particulates and bacteria are destroyed and prevented from growing.
Reviews From Real Customers
"My EcoQube is beautiful. It does exactly what was promised."
Rune
"My water looks crystal clean, plant is growing, and no motor issues."
E Joseph B.
"Petsmart tested EcoQube water and they were extremely impressed."
James Smith

Hear What The Experts Have To Say
"I've never seen a product as well figured out and detail oriented as the filter on the EcoQube. It's a fantastic way to keep the filter clean"
Ike Eigenbrode, Chief of Operations at Current USA & Ecoxotic
"Because of the basil and aquaponics, the water is staying clear. The EcoQube is beutiful and I'd buy one again in a heartbeat."
R. Bouley, Tech Time Informer