Living decor is one of the most naturally invigorating ways to spruce up your home. Not only does it bring the stunning beauty of nature into your home, it's proven to provide a myriad of health benefits that keep your feeling wholesome and fulfilled.
Filtering the air and increasing the oxygen in your home, plants create a stimulating environment that increases brain activity, relieves stress and induces happiness.
But how do you go about applying this green-fingered feel to your home? Give some of these ideas a go!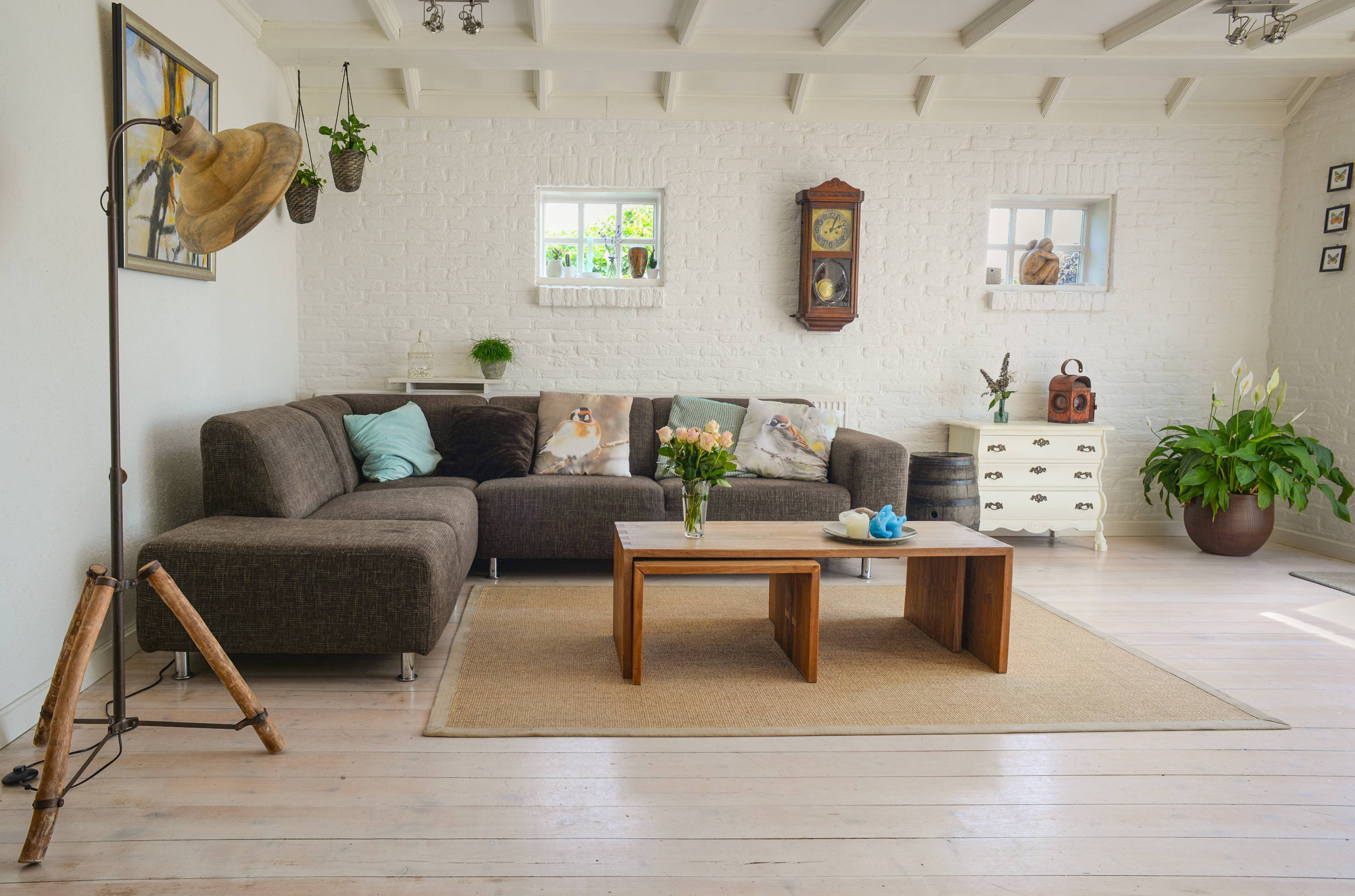 Creating a tapestry of green on one wall can be an eye-catching feature piece to any room. Pretty simple to do, you first need choose an indoor climbing plant, such as ivy (which is one of the best air-filtering plants in the world!), heart-leaf philodendron, or jasmine (an amazing aromatherapy plant).
Simply plant it in a pot on the floor, or a long planter at the bottom edge of the wall you want to work with. Place a trellis on the wall, and the plant will climb up the trellis. You may need to guide it at the beginning! You can even carry this along the ceiling with another trellis.
For a more minimalist feel, adding sprigs, fronds, and branches will bring a touch of the outdoors inside - without cluttering the space. By popping a branch cutting into a vase of water and placing it on to a mantlepiece or feature table, you can draw attention without crowding the room.
Plants like hydrangeas, sibirica, and 'bud's yellow' work very well for this and will start to grow roots in the water. Remember to keep these fronds and branches in light places, otherwise they'll wilt.
To maximize space, you'll want to use layers across the three dimensions of space. A great way to do this is through hanging plants. Flower pots that would usually be cluttering space on shelves and tables can be hung from the ceiling, using macrame. Macrame is the art of knotting string and ropes in creative patterns. By using macrame, you can loop the plant pot straight into the rope, and hang it from the ceiling.
For even more versatility, try using various types of plants. Play with placing long, dangling plants and vines from higher heights, with smaller, herbaceous plants lower down. That way, you'll get a more diverse visual experience.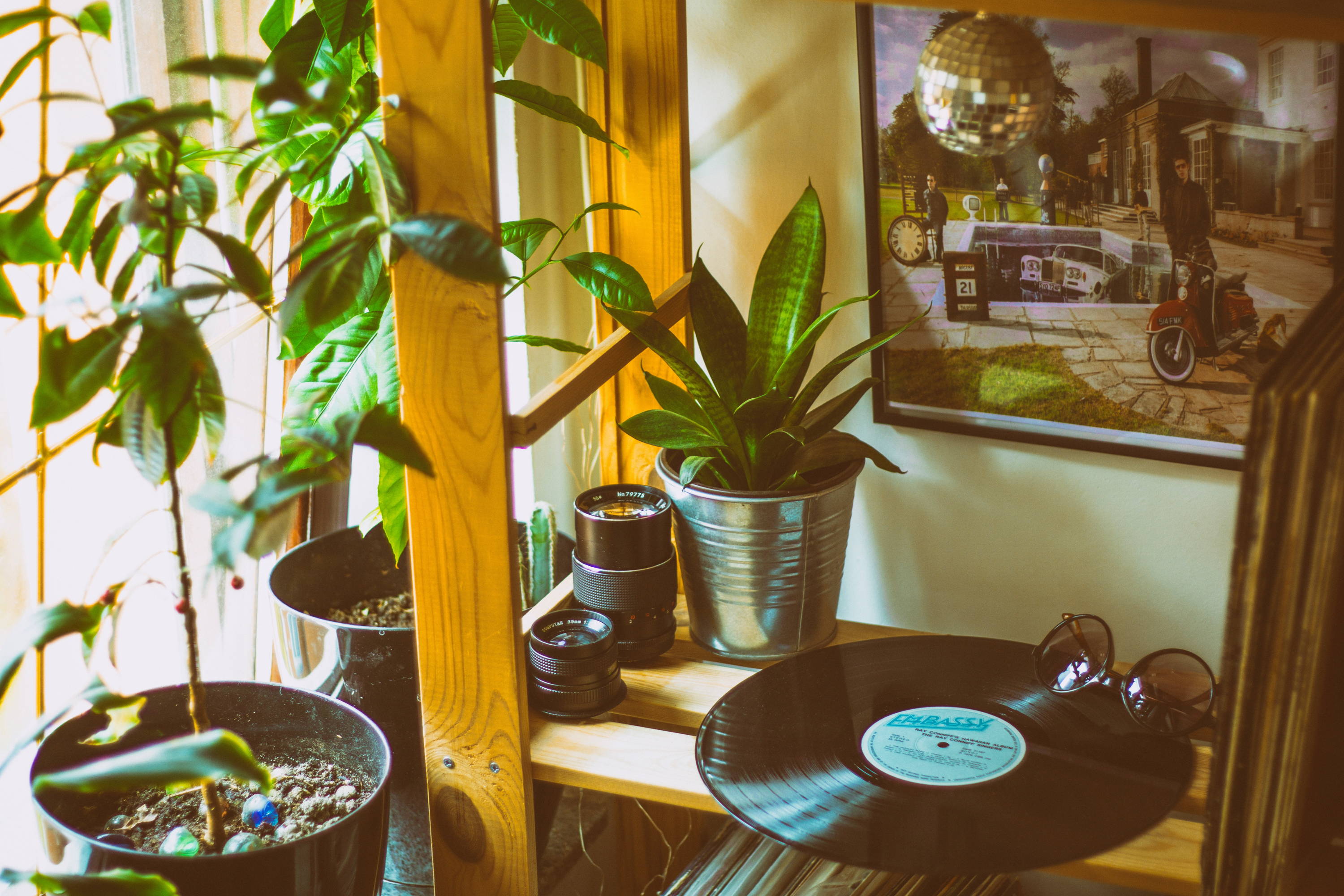 If you have a spare corner in one of your rooms that needs a little life, why not turn it into an indoor forest? You can do this by creating multiple layers of plants - maybe even a few edible treats!
If you're limited for space, try to limit your plant selection to lower level pot plants and tall, thin species like bamboo. If you have high ceilings and more room, why not experiment with growing a tree or two indoors. You can forest the corner with a bigger potted tree, complemented with two smaller options - such as dwarf fruit trees. Surround these with smaller potted plants and herbs on the floor or on small stacks of books or steps - this gives the illusion of space by using variable heights.
Another great minimalist technique for improve greenery in your home is to create artwork with your plants. If you have a bare wall that needs a little color, you can mount plants straight on to the wall. Try to use smaller, wall-mount pots, that have one flat side that sits flush to the wall. Remember to think about weight before you anchor a bunch of heavy soil to a plasterboard wall! For a more artistic feel, put big frames around them to give the impression of framed pictures.
For those that don't have time to cultivate plants, you can always press live leaves and flowers into photo frames. By pressing them fresh directly into frames, they'll dry inside the frame, giving you a natural piece of artwork that lasts for years.
Terrariums and Indoor Greenhouses
Terrariums are a creative way of incorporating mini gardens into your home. You'll need a glass vessel, in which you spread a layer of small stones, followed by a layer of potting soil, and topped with a last layer or stones. Succulents and cacti tend to do the best in terrariums and need very little care, but air plants and different types of bonsais and mosses work well too.
Herb spirals are a phenomenal piece of design for growing culinary and medicinal herbs. Not only do they provide you with captivating centerpieces for living decor, they'll also produce a whole range of herbs in a very efficient way. Herb spirals will also give your home a fragrant aromatherapy touch, and will keep mosquitoes away.
Build a small spiral of soil and support it with rock walls. Consider where you'll place it in the room first. Plants that like the most light - such as chamomile - should be planted on the side of the spiral that will receives the most sun (facing the window usually). Plants that need less sunlight - such as mint - are planted on the other side. Herbs that like drier conditions - like rosemary, sage, and oregano - are planted on the top of the spiral, with wet-footed herbs - like watercress and lemongrass - planted at the bottom.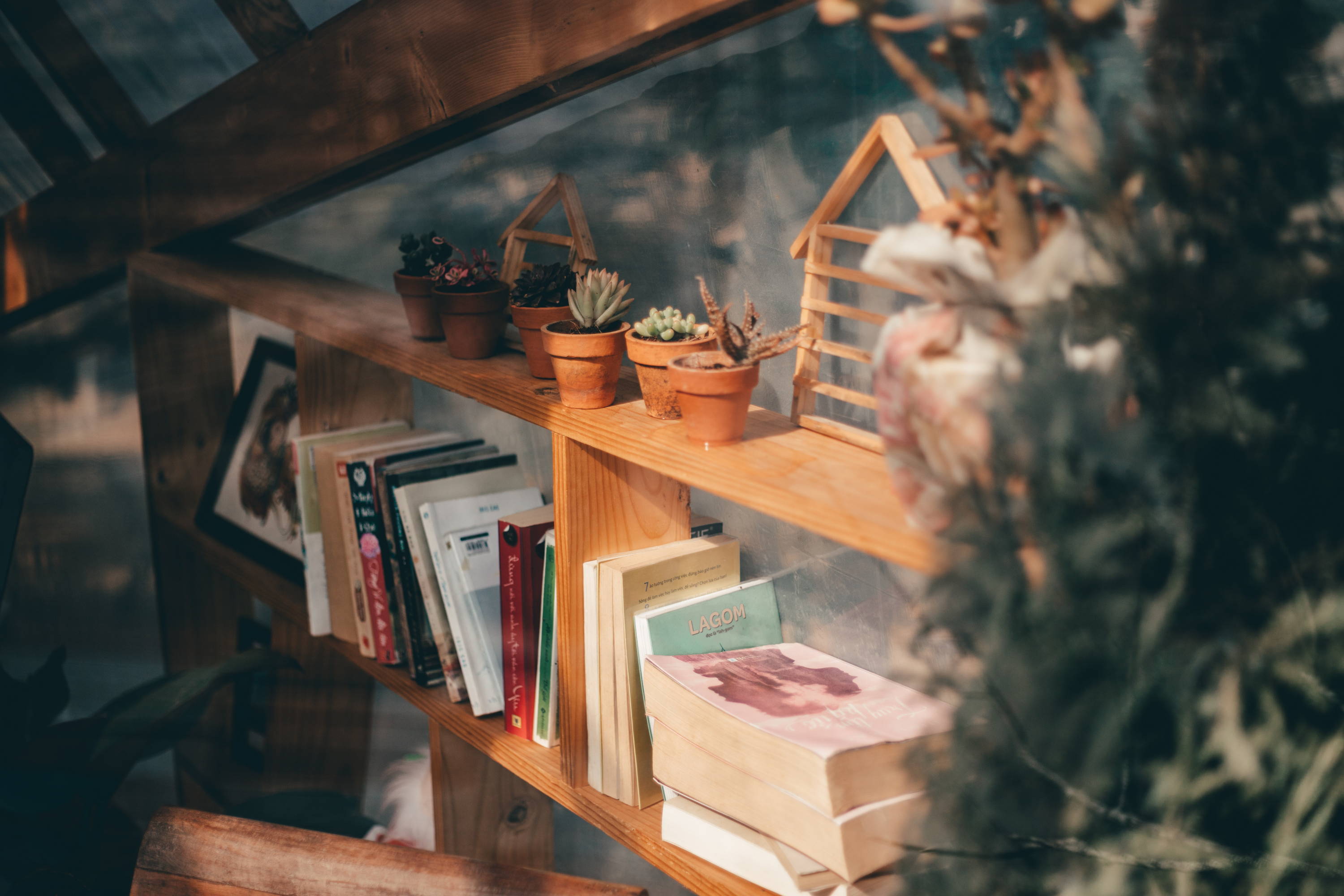 Perhaps you have an old empty bookshelf or your bookshelf has spaces that aren't filled with literary wonders. Why not place some plants in between. You can adorn the top of the book shelf with low-hanging vines to give a 'Secret Garden' feel, or intersperse your books with heavy-bottomed cacti and succulents to work as bookends.
If you have a shelf that's simply empty, why not fill it up with a catalog of plants of all shapes and sizes!
Hydroponics in Glass Vases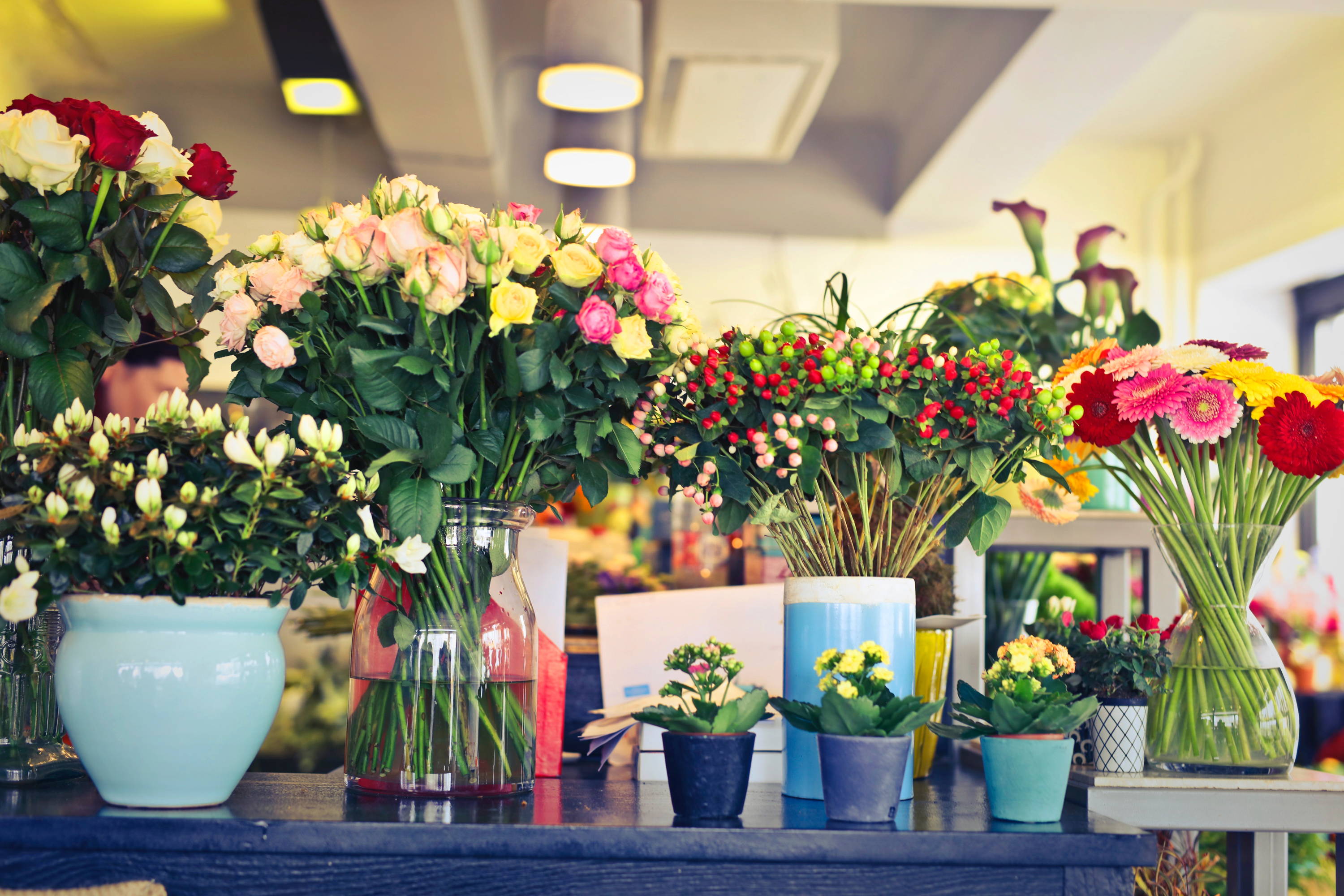 Glass vases give a very slick look in your home, combined with the intricate beauty of visible root systems. There are many species of plants and trees that will root when placed in water, showcasing as much artistry below as above. You will need a vase that has a thinner neck at the top to support your cutting, while the bottom should be wider to accommodate the roots that will grow.
Fiddle leaf figs and geraniums are ideal for this. You can also use lavender, sage, basil, oregano, rosemary, and mint for pickable herbs and natural room fragrancers. For air filtering houseplants, you can pick from spider plants, jade, peace lilies, and begonias.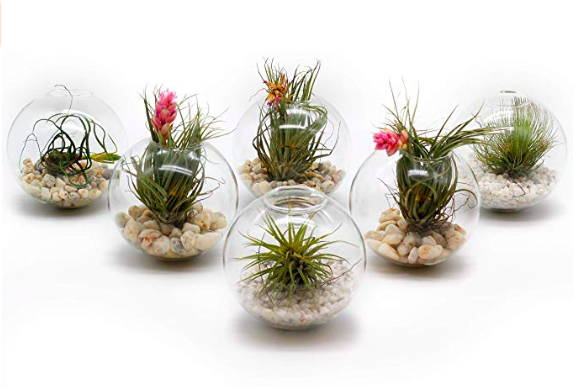 Last but not least, air plants are the perfect solution for the lazy gardener. While many of us live busy lives and fear the death of houseplants, air plants are the ideal answer to the problem. They grow by taking all they need from the air around them, without need for soil or lots of water.
They like to attach themselves to rocks or trees. To accommodate this when using air plants as living decor, give them a little rock formation or piece of wood/bark is the best option. You need to water them every one to two weeks, by filling the sink and rinsing them. Let them drain in the sink overnight. You can also spray them once a week. They like partial shade, but they like warm temperatures.
No matter your horticultural skill, there are a whole menagerie of options for living decor, to give your room that green-thumbed feel. Whether you're looking to fill floor to ceiling like a forested boudoir, or to add a slice of green in a minimal studio, you can incorporate plants on all levels of your living space.
Just remember that houseplants need light and will grow toward the light they find - so think about this journey over time and place your plants strategically considering their growth in the future.